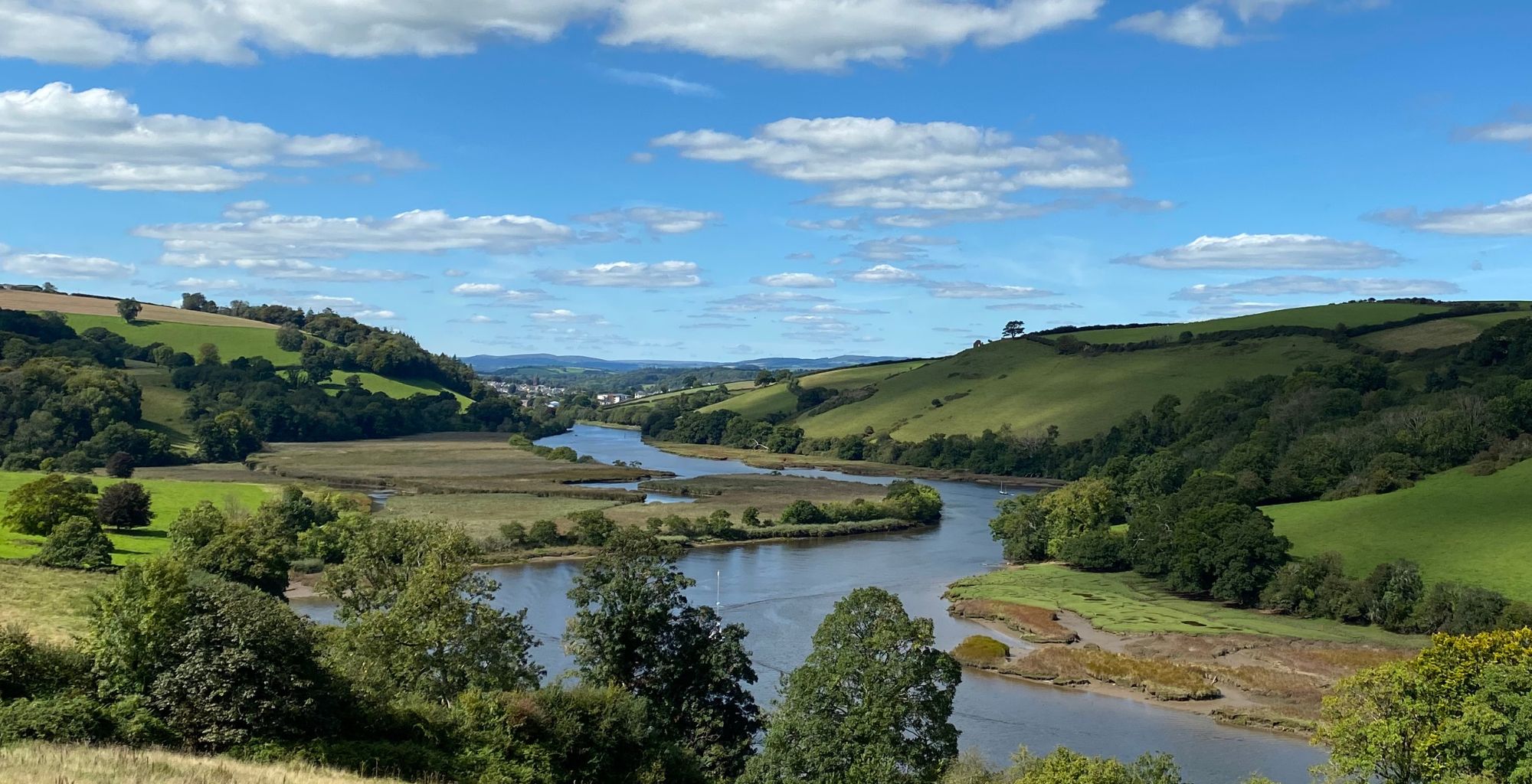 Living in Totnes, Devon
Published Nov 16th 2023
4 mins read
Explore the benefits of living in Totnes, Devon with expert advice from Garrington.
Nestled between Dartmoor and the coast at the head of the River Dart, the thriving market town of Totnes has everything you could want – stunning countryside, water activities galore, a proud history and excellent schools and amenities.
Famous for once having its own currency – the now defunct Totnes Pound – this beautiful, historic town has a lively, bohemian community and a relaxed atmosphere. If you want to live in one of the best places in Devon, then living in Totnes will tick all the boxes.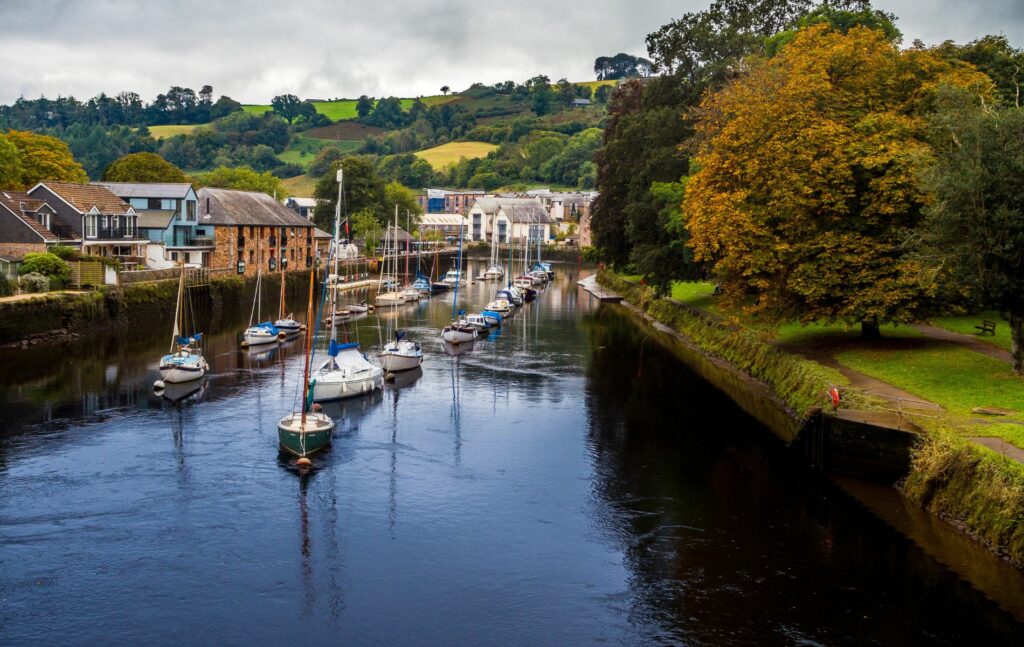 What Types Of Property Are There in Totnes, Devon?
Totnes literally has it all. Whether you are looking for a sprawling mansion sitting on a large slice of land or a cosy riverside apartment with amazing views, you won't be disappointed.
In Totnes, old and new come together, from Georgian, Victorian and contemporary designer houses to period farmhouses, terraced townhouses and quaint cottages.
Schools in Totnes
Totnes and its surrounding area have an excellent selection of primary, secondary and independent schools. And for those looking for further education, Exeter University is around a 45-minute drive away. Several local colleges also offer specialist studies – for example, the Schumacher College offers ecology-centred degree programmes.
Primary Schools In and Around Totnes
Totnes St Johns C Of E Primary School;
The Grove School;
Dartington C of E Academy;
Secondary Schools In and Around Totnes
King Edward VI Community College is a co-educational secondary school with a sixth form;
South Devon College – a co-educational school that also offers apprenticeships;
Independent Schools Near Totnes
Totnes Independent School is a non-punitive school for students aged 11-16;
South Devon Steiner School – a co-educational school for students aged 3 – 19;
Torquay Girls Grammar School, in nearby Torquay, for students aged 11 – 18. It is one of the first schools to offer the AQA Baccalaureate.
Green Spaces in Totnes
Totnes is perfectly situated in the heart of South Devon, sitting on the banks of the River Dart and surrounded by miles and miles of countryside.
The coast is only a few miles away, with plenty of beaches to explore. Set in the South Devon Area of Outstanding Natural Beauty, living in Totnes offers the very best of the great outdoors.
Dartington Hall Estate and Gardens
Situated on 1,200 acres of picturesque parkland just outside Totnes, Dartington Estate is a historic destination that also has a vibrant community of businesses and colleges.
Focused around the medieval Great Hall, Courtyard, and Grade 2 Listed Gardens, Dartington offers a plethora of activities and attractions. You can enjoy dining experiences and Deer Park trails; family-friendly activities and live entertainment; the barn cinema and a children's playground.
Dartmoor National Park
Covering 368 square miles, Dartmoor National Park is a haunting, unique area, with its deep river valleys, rugged moorland, rich history and rare wildlife.
The terrain is characterised by expanses of moorland adorned with numerous granite hilltops, often referred to as tors, offering habitats for diverse wildlife. The peak, High Willhays, stands at an elevation of 621 metres (2,037 feet) above sea level. Throughout the region, you'll find a wealth of antiquities and archaeological artefacts.
Vire Island
Vire Island is a charming riverside setting, named after the French town that shares a twin-town relationship with Totnes. This tree-bordered expanse of parkland is open to the public, and forms a peninsula nestled neatly between the town and the primary course of the river. It's a great place for dog walking and picnics.
Lukesland Gardens
Spanning 24 acres, this garden boasts an impressive array of flowering shrubs and rare trees, carefully planted alongside a Dartmoor stream within a tranquil woodland valley. The garden showcases stunning colours during both spring and autumn.
Visitors can enjoy a tea room offering homemade soups and cakes, as well as a children's trail. Dogs on a lead are also welcomed.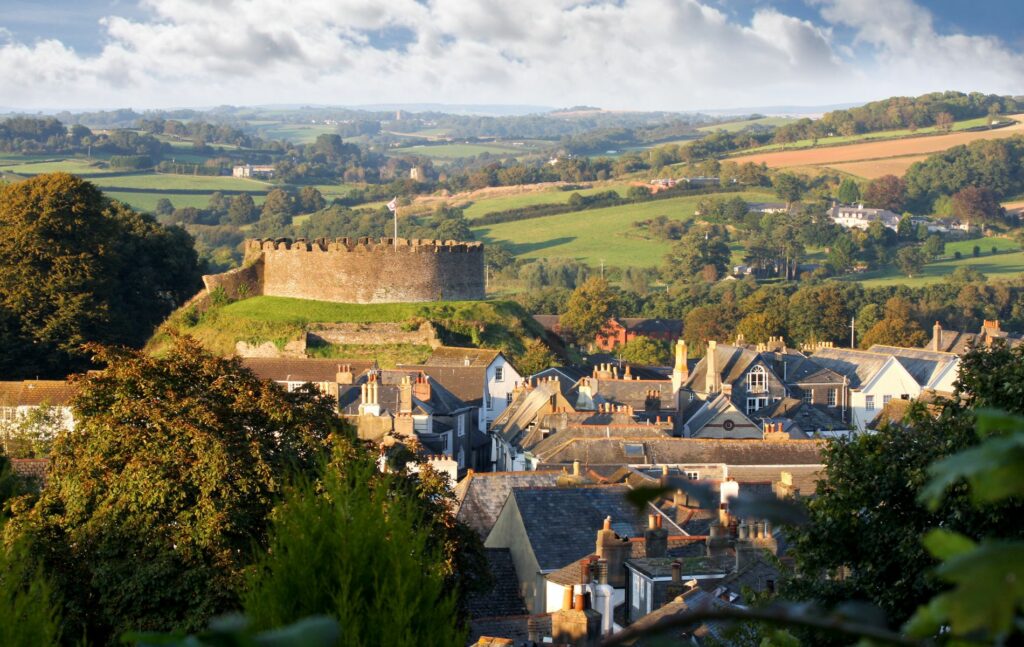 Totnes, Devon Transport Links
Living in Totnes, you can enjoy excellent transport links. Its mainline railway station offers regular, direct services to London Paddington, taking just under three hours. Totnes station also links to many other towns and villages in the area and further afield to the Midlands, Wales, Cornwall and Edinburgh.
Exeter Airport is around 45 minutes away by road. It flies directly to both Gatwick and Heathrow, together with multiple destinations throughout Europe and North America.
Road access to the national motorway network is convenient from Buckfastleigh via the A38 trunk road, connecting to the M5 towards the Midlands and further linking to the M4 for access to London. Central London is a journey of just over four hours by road.
Places to Eat, Drink and Shop in Totnes
You'll see amazing architecture Living in Totnes, that reflects its fascinating history. Wander around the winding streets of the town centre – where many of the buildings have been painted in pastel hues – and you'll find an eclectic mix of independent shops selling locally produced and handmade products.
Enjoy the range of cafes, speciality coffee shops, wine bars and pubs, and restaurants serving international cuisine.
There are four main shopping areas – Fore Street, The Plains, The High Street and The Narrows. Fore Street is home to art galleries and gift shops while on The Plains you will find riverside restaurants, traditional delis and bakeries, and shops selling local cheese and, organic fruit and vegetables.
The High Street features the local cinema as well as shoe and clothing shops, plus hosts the regular market. The Narrows at the top of town has vintage clothes shops, bookshops and fine arts.
Totnes has been an important market town since the 12th century and even today there are still both weekly and monthly markets.
Soak up the sights and smells and discover everything and anything from delicious cakes to locally produced honey and from clothing to antiques.
Why Move to Totnes?
If you want to live in a riverside, historic market town, with both the South Devon coast and the rugged Dartmoor countryside nearby, then living in Totnes is perfect.
Steeped in history – dating back to 907AD – Totnes is a beautiful, well-established market town that has an independent, quirky feel. Boasting excellent transport links, schools and amenities, Totnes is ideal for young professionals, families and retirees alike.
Living in Totnes
Do you want to live in Totnes? Then at Garrington Property Finders, we would love to find you your dream home – whether you want to downsize to a quaint cottage, buy an apartment with dreamy riverside views, or a large home in which your family can grow, we can help.